Indian village empowers girls by naming houses after their daughters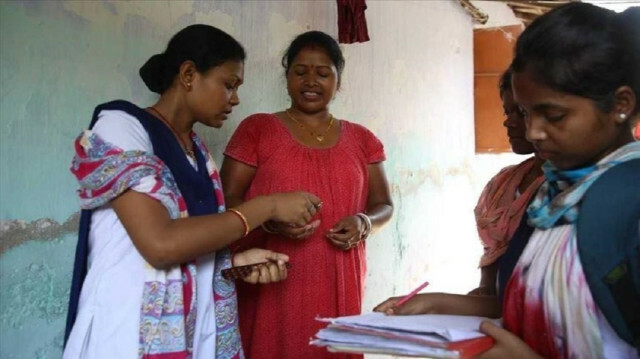 When a remote village in East Jharkhand, India launched an initiative in 2016 to name houses after their daughters, little did they know it would make the village proud.
Fating became the first tribal village in the state of Jharkhand where nameplates bear the names of the daughters of the family. And six years later, villagers say it has succeeded in bringing change to the village and beyond.
As the International Day of the Girl Child is celebrated on Monday, villagers said similar initiatives should be replicated in other villages to end gender discrimination.
"The aim of this initiative was for women in the village to gain their identity and build their confidence. As India is a patriarchal society, the nameplates outside the houses are mostly male. So our initiative was to end to this discrimination," Urmila said. Samad, a village level elected official told Anadolu Agency.
The village has 700 inhabitants of about 120 families. Initially the houses had men's nameplates, but this practice has been reversed.
"Today, a woman in the village gets a lot of respect because of this. Not only is a family known by her daughter, but the village is also known by this initiative," Samad said.
According to the villagers, the initiative has brought about changes.
"It took advantage of that," Urmila said. "Initially, the villages were known to men and it has reversed now."
Due to this move, there has been a growing interest in education, Samad added.
"Now the focus is on education and college," she said. "Ours is a tribal village, and now the priority is that every girl gets an education."
Sanjay Kumar, an administrative officer who was stationed in the area and led the initiative when it started, said the response was good and the idea was widely appreciated.
He said that with the initiative, he advanced the "Beti Bachao Beti Padhao," or Save the Daughter, Teach the Daughter, a campaign to improve the sex ratio of children in India.
"We went further with the Meri Beti, Meri Pehchan (My daughter, my identity) campaign launched from Tiring," he said. "It worked in a positive way."
The initiative is now finding takers in other areas.
Last December, the northern state of Uttarakhand replicated the initiative in Pauri Garhwal district and named houses after the girls. The naming of the girls was part of a plan to educate women and their families about "women's rights and land ownership", officials said.